Neal Fay:
Neal Fay is the Vice President of Business Development at King & Bishop and Finish Line Staffing Services. Neal's career has spanned Engineering, Sales and Talent Acquisition, and he enjoys leveraging skills learned in these fields to success with key clients and accounts. Neal's passion for staffing comes from the ability to grow individual networks and develop a community relationship throughout Boston's Human Resources and Talent Acquisition communities. When not at work, Neal can be found making a difference by participating in various charitable organizations and events. Neal will be participating in his 31st Pan Mass Challenge, 192 mile bicycle ride supporting the Dana Farber Cancer Institute. Neal can be seen Auctioneering for charitable events.
Contact Neal Directly: nfay@kingbishop.com
Paul Nannicelli:
Paul Nannicelli is the Vice President of Recruitment with Finish Line Staffing Services. Paul's background includes roles in Human Resources and Recruiting. He has been a part of the King & Bishop/ Finish Line Staffing Services organization for over 6 years. Paul attended Xaverian Brothers High School and Saint Michael's College, where he received a Bachelor of Science in Business with a minor in Marketing. Paul is also a former Pro Hockey player and models clothing for High Gray.
Contact Paul Directly: pnannicelli@kingbishop.com
Ryan Bere: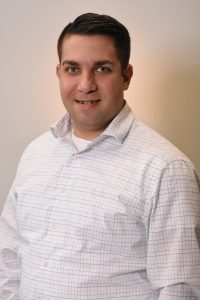 Ryan Bere is a Recruiter for Finish Line Staffing Services, a King & Bishop Company. Ryan comes to our organization with 10 years of experience in retail management to go with his 3 years of experience in Human Resources.  Ryan has developed great customer service skills, which has allowed him to build strong relationships with everyone.  Outside of work Ryan loves to play baseball in his free time.  He also coaches a girl's travel softball team.  Ryan is involved in the 100 Inning Baseball Game with raises money for ALS.  Each spring Ryan donates his time to the Jimmy Fund's Fantasy day event at Fenway Park.  This event supports and raises money for the Dana Farber Cancer Institute.
Contact Ryan Directly: rbere@finishlinestaffing.com
Jim Arria:
Jim Arria is the Division Manager of the Central & Southern New England branches of King & Bishop and Finish Line Staffing Services. Jim started in 2015 as a recruiter after spending 5 years in retail management. Jim is customer service focused and enjoys delivering the best experience for candidates and clients. When not at work,  Jim likes to remain active playing in multiple basketball leagues and spending time with friends and family.
Contact Jim Directly: jarria@kingbishop.com
Dave Curran:
Dave Curran is a Senior Recruiter with Finish Line Staffing Services. Dave's background has covered sales, marketing, product management and the last 8 years in recruiting. Dave has his Bachelor's degree in Marketing from Merrimack College. When not at work, he spends time helping with various charitable events with the Knights of Columbus. He also enjoys golfing and candlepin bowling.
Contact Dave Directly: dcurran@finishlinestaffing.com
Robert Purcell:
Bob Purcell has over 15 years as a staffing professional and 
a recruiter in Boston. Bob's areas of expertise include resume development, candidate coaching, staffing for multiple industries and across integrated disciplines. Bob attended Wentworth Institute studying Electrical Engineering and the University of Massachusetts where he studied Business Administration.
Contact Bob Directly: bpurcell@finishlinestaffing.com
Chris Tashjian:
Chris Tashjian is one of our recruiters at King & Bishop. Chris started at King and Bishop in September of 2018. Chris began his career in education and served as a Director of Athletics for several independent and public schools in the Mid-Atlantic and Northeast region for over 20 years. He is a Certified Athletic Administrator with the National Interscholastic Athletic Administrators Association.
With Chris's people skills and leadership abilities his hope is to develop, recruit and assist a wide range of candidates for the workforce. Chris has current memberships with RISHRM, Providence Chamber of Commerce and the Rhode Island Manufacturers Association. He currently resides in West Warwick, RI and umpires baseball and referees basketball in his spare time. Chris did his undergraduate work at Salem State University with Bachelor of Science degree in Physical Education/ Health. He did his graduate work at George Mason University with a Masters Degree in Educational Leadership.
Contact Chris Directly: ctashjian@kingbishop.com
Denise Pierce: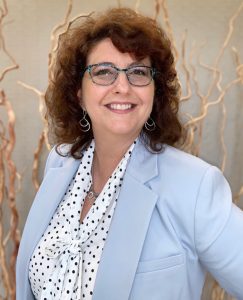 Denise Pierce is the Director of Client Services at King & Bishop. Denise develops relationships with clients delivering solutions and resources for staffing and recruiting challenges throughout Central MA. As a relationship builder she brings with her over 20+ years of experience in customer service, network marketing, business development, project management, continuous improvement processes, coaching, training, event management, and strategic planning. Over the span of Denise's career she has functioned as a manger in Manufacturing, Construction, Retail, Corporate, Health & Wellness and the Non-profit sector contributing to extensive growth by developing and implementing continuous improvement processes. Her vision to foresee the big picture and a drive to work efficiently and effectively led her to obtain a LEAN Six Sigma Green Belt. While raising two young children she successful operated an Interior Design business for over 15 years throughout Southern New England with several projects featured in magazines and included in a historic house tour. With a passion for serving others she has been an active Board member for several networking organizations throughout Central MA and effectively chaired events for organizations in support of children, veterans, and women including Dress for Success Worcester as a founding contributor. Denise was raised in CT, grew up traveling and has lived in London, explored Russia, France, Canada, Virgin Islands, Bahamas and all of the United States, except Alaska. Denise is an acclaimed artist and she enjoys spending time with her 2 young adult children skiing, hiking, golfing, fishing, kayaking, exploring museums, traveling and playing with their 4 yr. old Portuguese Water Dog, Oreo!
Contact Denise Directly: dpierce@kingbishop.com
Michael Burr:
Michael Burr, Corporate Controller of King & Bishop, brings over 25 years of accounting experience in both public accounting and in the management of privately held businesses. Michael looks forward to helping the company, through leadership and guidance, achieve our vision for the future. King & Bishop is growing nationally and internationally offering a portfolio of services designed to meet clients' needs.
Before Michael joined King & Bishop in 2019, he worked as a public accountant at Feeley & Driscoll, a mid-sized Boston based public accounting firm working with privately held entities.  He moved into the private sector in the role of Corporate Controller and CFO for companies such a Distributor of Medical Supplies and Devices, a Contract Research Organization, a Manufacturer in Oil & Gas Industry and a Microwave Materials Manufacturer.  His last position was at a Contract Manufacturer Organization operating in the personal care and pharmaceutical industries.  He looks forward to learning the ins and outs of the recruitment industry and collaborating and working closely with the team at King & Bishop to ensure the future success and growth of the business.
Michael earned his Bachelors of Arts degree from Colby College.  He also earned an MS in Accounting and an MBA from Northeastern University through the Graduate School of Professional Accounting.
Contact Michael Directly: mburr@kingbishop.com
 Makeda Lord:
Makeda Lord is a Senior Recruiter with 15 years of experience. She has worked as

corporate recruiter and agency recruiter where she conducted executive level searches across a variety of industries and functions. Makeda has also worked as a corporate human resources representative supporting full life-cycle recruiting, including proactive candidate searches, and interviewing and executive search.
She has recruited professionals in all specialties from staff level to senior management across various industries. Makeda is passionate about recruiting and takes great pride in providing the highest level of service to both her clients and candidates. Makeda has a stellar reputation as a hard working and honest recruiter. She is considered a trusted colleague, collaborator and professional advisor to numerous clients. She enjoys on partnering with clients to fill those hard too fill roles. Her passion is doing search. Makeda earned a Bachelors  Degree from the University of Massachusetts Amherst.
Contact Makeda Directly: mlord@kingbishop.com