Read below for information from MassMEDIC about the MedTech Showcase!
Meetings, Events, and Webinars
MedTech Showcase: Call for Presenting Companies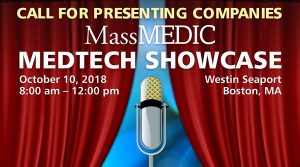 MassMEDIC is Looking for a Few Good MedTech Start-ups!
MassMEDIC will holds its Annual MedTech Showcase on the morning of Wednesday, October 10th, the second day of Device Talks Boston at the Westin Seaport Hotel, in the heart of Boston's Innovation District. We are pleased to partner with MassDevice, a trusted online source of industry news, to expand and grow this annual event that highlights promising emerging medtech companies.
The MedTech Showcase is the region's premier event for entrepreneurs, potential investors and partners to gather and learn more about the technologies and business plans of over 20 select emerging medtech companies.
The event's focus is the 10-minute pitches made by medtech start-up executives from this area as well as from partnering regions in Canada and France.
Questions? Please call 617-414-1340